My Team
I take customer service very seriously. So does my staff. Together, we are committed to providing exceptional customer service to all of our clients.
If you need to schedule an appointment or request any other service, please let us know. We will respond promptly.
Shay Arroyo, B.S.
Director of Client Services
Office 917-522-6440

Shay Arroyo has 10 years of Finance experience under her belt. She worked in finance in the medical industry for a world-renowned hospital in NYC before coming to Northwestern Mutual.
She was determined to "help real people, with their real money", in her own words. Her passion is making every client leave each meeting more knowledgeable and better off financially than they were walking in. She encourages everyone to take an active role in their own financial plan, with the guidance of her and her team. Her persistence to take the bull by the horns comes from inspiration of her own life. She became a mom at a young age.
Despite the obstacles, she went on to a successful career. Shay graduated from Brooklyn College with a degree in Finance and Accounting- all while working full time and taking care of her 2 daughters. She is a proud mom and successful advisor. Shay stands true to her mission to financial planning for everyone and knows that there is no one size fits all approach.
Shay currently holds the New York, Florida & Virginia Life, Accident, Health license.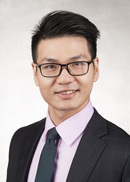 Hang Lin, B.S.
Financial Planning Specialist
Mobile 347-824-8840

Hang is the backbone of the entire practice. As the teams' financial specialist, he focuses on investment portfolio construction.
He is tasked with analyzing market trends and using the information to assist each client in their pursuit of financial growth and preservation.
Hang graduated from Baruch with a degree in Finance and currently holds the Series 6, 63, and 7 licenses. He is also a CFA candidate.
When Hang is not working hard building financial plans, he is a proud husband to his wife and doting father to a two-year old girl. Being a hard- working family man, Hang knows the importance of an efficient financial plan. He works diligently so that each client can look forward to a brighter financial future.
Johnny Yu, B.S.
Financial Planning Analyst
Office 917-522-6440

Johnny graduated from Iowa State University with a bachelor's degree in Management Information Systems.
He specializes in database analysis & design, and data mining. He is using his skill set to create a technical analysis report to extract the needed information and compare to statistical market data. He executes both short- term and long-term customized comprehensive financial strategies to each client's needs.
Johnny is fluent in Chinese and English. In addition, he is an enthusiast of related applications in stock/bond data. He has great attention to detail, neat output, and a full dedication to work.